QF Branch 14GA 30 Degrees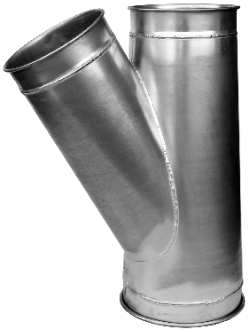 14 Gauge Branches with Quick-Fit® (QF®) rolled ends allow fast, clamp-together installation. 14 Gauge Branches have leak-free, solid welded seams, preventing leakage.

• When ordering specify A, B, and C end type(s).
• A - C ≥ C - B
Reducer at C or D may be required. Use formula above to determine.
• Length = C X 2 + 9"

• Available in Galvanized
• Available with flanged ends in diameters up to 72", and other various end types
• Available with 45° angle
• Optional gauges 20, 18, 16, 12 and 10